Our goal is to bring you the best photo booth entertainment service at an affordable price!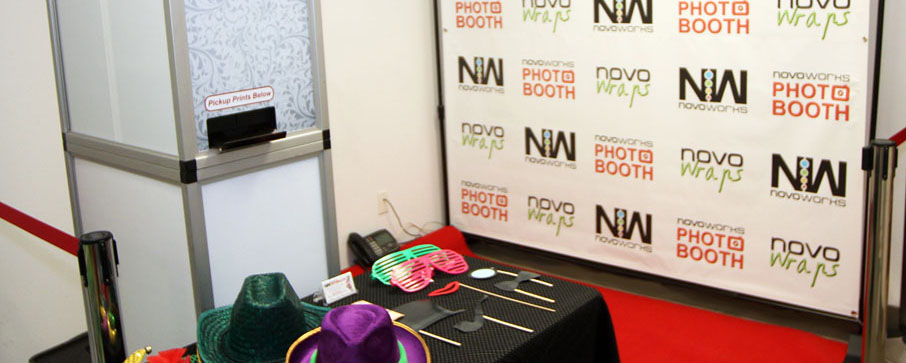 Why choose NovoWorks Photo Booth?
Best graphic designers on staff – A huge, often overlooked, detail of your photo booth rental is making sure your on-site print graphics look exactly how you envisioned them. We have graphic designers on staff !   We will work back and forth with you by sending out email proofs of how the on-site prints will look weeks prior to your event. Submit as many changes as you like, we're not happy until you're happy!
Full time staff to answer your questions – Make sure whoever you hire will actually answer your calls AFTER your check clears. At NovoWorks we man our phones 5 days per week. If you have questions regarding your photo booth rental, help is just a phone call away.
Large photo booths options that fit more people – Our open-air booth option can fit as many people as you have space for!  We have done many events with 15+ people in the shots!
What's included with my rental?
On-site attendant – Every photo booth rental from us comes with an on-site attendant to help ensure that your guests maximize the photo booth experience.   Our professional and courteous photo booth attendant will ensure the booth is operational the entire rental period. They are also there to assist your guests in using the booth and will explain to your guests how to log on to your new private web gallery and view / share their photos for many months to come.
On-site prints – Seconds after your guests exit the booth, our printer begins printing the photo from their photo booth session automatically! It takes about 30 seconds for the print to be fully printed, dried, and ready to share, but the next group of guests can already be inside the booth getting their pictures taken. We use the highest quality printers on the market so rest assured, your guests will be blown away by the on-site print quality!
Unlimited sessions – Your guests are free to go through the photo booth as many times as they like, and believe us when we say, many do! Once those pictures start circulation around your event, the photo booth action becomes contagious! There is no limit to how many priceless photos our booths can capture. Simply add people and let the fun begin.
High resolution images – You will receive a USB stick containing all the pictures taken to print and share your pictures whenever and wherever you like. In addition to the collages, we also provide the individual files as well!
Customized graphics – With NovoWorks you get more options making the photos from your event truly unique. First, choose a configuration of how you would like your prints to look. Then choose a template that best fits your tastes. Not sure how you want your prints to look? We'll design a cool graphic for you free of charge.